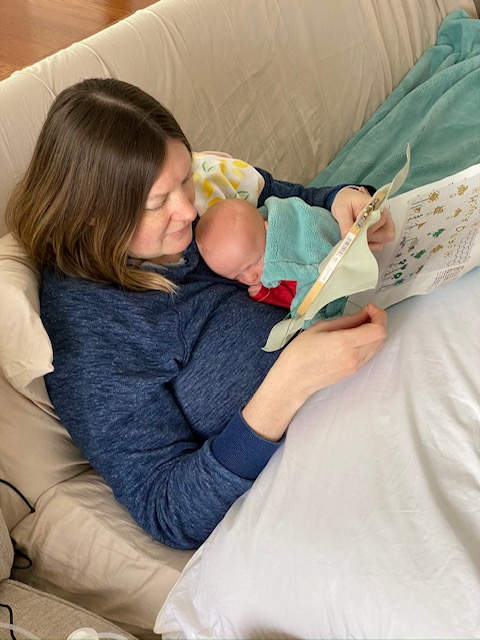 About Me
I am a librarian for the Cuyahoga County Public Library system in Ohio and live in Concord Township (on the east side of Cleveland) with my husband, our new baby, and two cats.
Why The Count of Many Stitches?
The Count of Many Stitches is named for the classic novel of revenge and one of my favorite books, The Count of Monte Cristo.
Many authors say if you can't find the book you want to read, you have to write it. When I can't find the pattern I want to stitch, I design it. It has taken me years (due to job changes, moving, relationship changes, etc.) to get to a place in life where I can create patterns and make them available to other needleworkers. Thus I take revenge on lost time and missing patterns and offer you patterns for Readers and Revenge Seekers.
See my patterns at my Etsy shop, and follow my Facebook page.
How I Learned Cross Stitch
My mother taught me how to cross stitch when I was about 13 with a stamped kit that I never finished. It was a basket of flowers that said "Kindness is Contagious." Who knows where it is today? At that age, I preferred to spend time drawing and reading and did not pick up stitching again for years.
How I Picked Up Stitching Again
I had always been interested in art and drawing so I attended the Columbus College of Art and Design for my first year of college with the plan to someday illustrate children's books. At the start of my second year, I decided to leave art for a more "reliable" career. I moved back to Cleveland and earned a degree in Middle Childhood Education. I taught six years in Cleveland schools. At that time, my friend and fellow teacher, Lora, took up crocheting. I, too, wanted to do a craft but didn't know what. Then I remembered I knew a little about counted cross stitch. I bought an easy kit of two hummingbirds. I was immediately addicted!
I began buying all of the DMC floss colors, books, patterns, fabric, and anything else related to cross stitch. Of course I never finished the hummingbirds because I was eager to move on to something else. I tried to finish it later but I accidentally threw out the thread. My first project I finished was two Siamese cats I made into a pillow. I have been stitching ever since! I also began designing patterns while I was a teacher. My first design was a kitchen sampler of purple and green grapes.
My Patterns
My patterns are hand drawn on graph paper then charted using PCStitch 11. Patterns available for purchase can be found on my Etsy shop. I include with my patterns Recommended Reading — titles of favorite books that complement the pattern's subject.
Groups and Guilds
Embroiderer's Guild of America, Member-At-Large since 2018
Sew Chatty, Concord Township OH since 2017
Contact Me
For questions, comments, and requests, email me at:
jamie@thecountofmanystitches.com
Browse patterns at https://www.etsy.com/shop/CountofManyStitches
See finished needlework on flickr: https://www.flickr.com/photos/21156363@N05/with/31938859268/